Poydras Market (on Poydras Street between Baronne and South Rampart) was completed in 1837 on ground ceded by the Carrollton Railroad Company.
By 1865 the city made provisions to purchase a square of ground in the rear of Poydras Market for the purpose of enlarging it. It was then descibed as being located on Dryades Steet, between Baronne and Rampart, and consisting of "large brick, iron pillars, plastered and slated" roof -- all valuedat $380.000.
Maylies (restaurant) was opened originally as a coffee shop in the Poydras Market by Madame Esparbe. In 1876, it moved to a larger building across the street, noted for the wisteria vine that coiled about its facade. It soon became a famous restaurant around the world, and remained a New Orleans favorite until its closing in 1986.
In 1890 the city surveyer submitted a new proposed plan.
The 1903 the market was wired for electricity and the Market Assessement Value for the market was $50,000 with an additional $5000 value for the "front of".
In 1906 market dealers petitioned the city for a streetlight at Melmomene at Terpsichore.
A 1909 petition by Herbert H. Ruch sought a refrigerator or ice-box in Poydras Market (side of market facing S. Poydras between Baronne and Dryades).

Poydras Market roasted coffee and chicory label. Date unknown.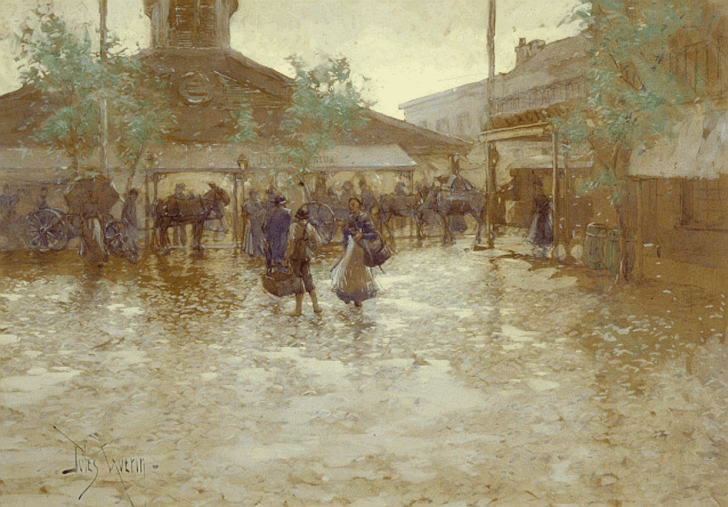 Jules Guerin painting ca. 1895 -- View of market before 1898 from Rampart Street end. Shows market building with shuttered cupola. Shows mule drawn carriages and pedestrians. At right a woman waits under a covered walkway with two wooden barrels. A sign above reads "exchange".

Poydras Market, from Gibson's Guide and Directory of the State of Louisiana, and the Cities of New Orleans and Lafayette, 1838 (NOPL)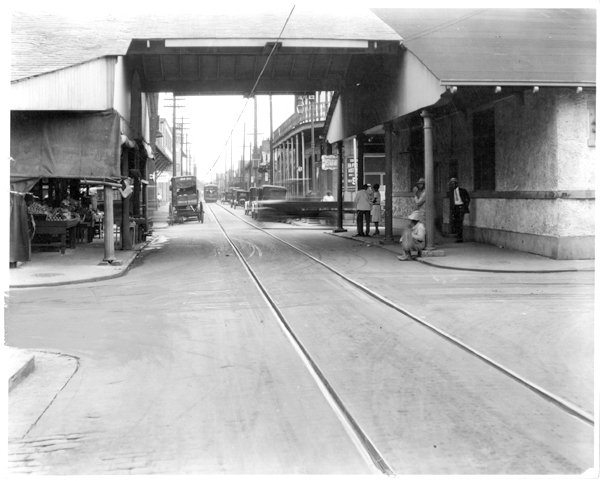 The caption reads "Under the Poydras Market cupola." This public market, built in 1838 and remodeled in 1898, stood in the middle of Poydras Street between Baronne and South Rampart. Most photographs of this distinctive building show it from a distance; this one gives a more intimate view of the market in use--and the streetcar trundling down Poydras Street. NOPL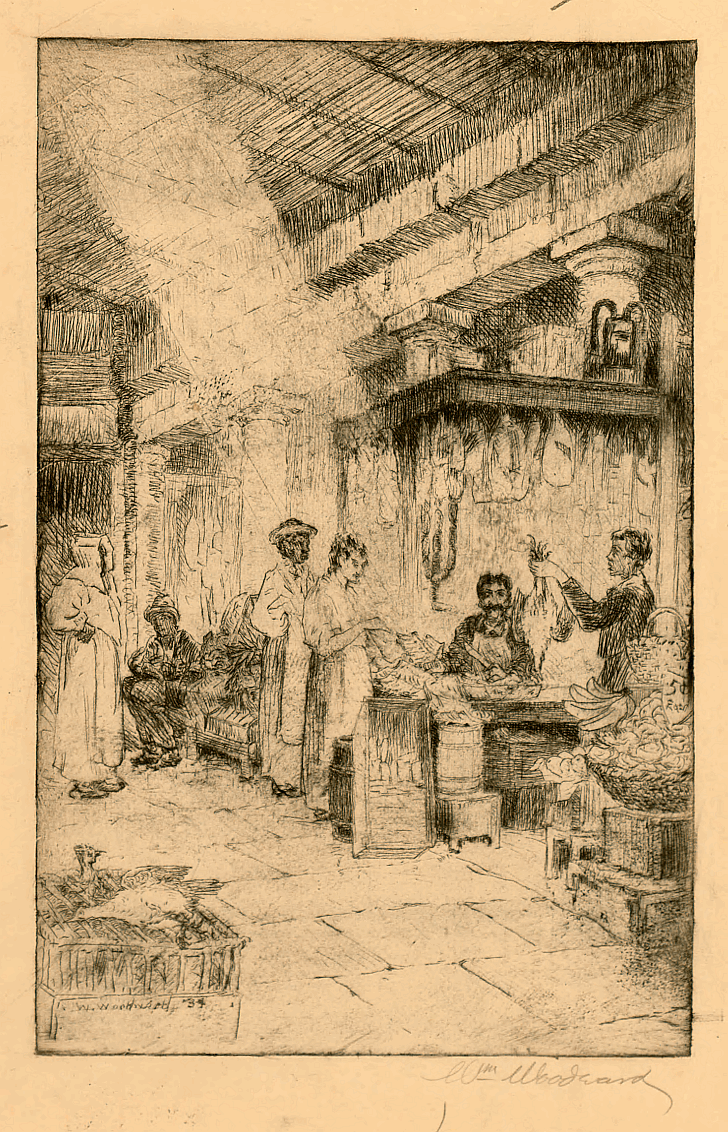 William Woodward 1934 etching -- People shopping for poultry, vegetables, and other food items at the Poydras Market.