An 1847 city ordinance provided for a market house to be built at the corner of Dryades and Melpomene (Now Martin Luthor King Jr. Boulevard) Streets but the market would not officially open until 1849 when it was one of the largest markets in the city.


The Dryades Market was located on Dryades Street, encompassing areas of Dryades, Melpomene, Thalia, and Terpsichore streets (the current address of the main entrance would be 1506 Oretha Castle Haley Boulevard) . The market was expanded by the city in 1852, to better accomodate butchers, seafood vendors, and fruit vendors (on the downtown side of Melpomene) and for poultry and vegetable providers (on the uptown side). That market was demolished in 1857 to make way for a further expanded market and updated equipment, including refrigeration. The 1857 city ordinance provided for a the payment of $11,000 to Patrick Irwin - one-half the appraised value of Dryades Market. In 1865 the city provided for improvements including brick, iron columns, and plaster for the 356 by 128 feet structure which was valued at that time at $100,000.
In 1903 electrical lighting was added but its market assessment value had dropped to $50,000. The market became a venue for various political meetings and rallys. On July 24, 1911 an unknown architect submited a plan for improvement at 1500 Dryades Street. The same year, the old Dryades Market was demolished and replaced with a $60,000 structure which included a refrigeration plant.
It was renovated in 1932/33 by Sam Stone, Jr. & Co at a cost of $125,000 with additional modern features and equipment. By 1938, the market offered meat, fish, and fruit.
In 1946, the city relinquished control of this public market. During World War II a portion of the market building was used as a WAAC Induction Center and USO. During the 1970s it was turned over to a private owner.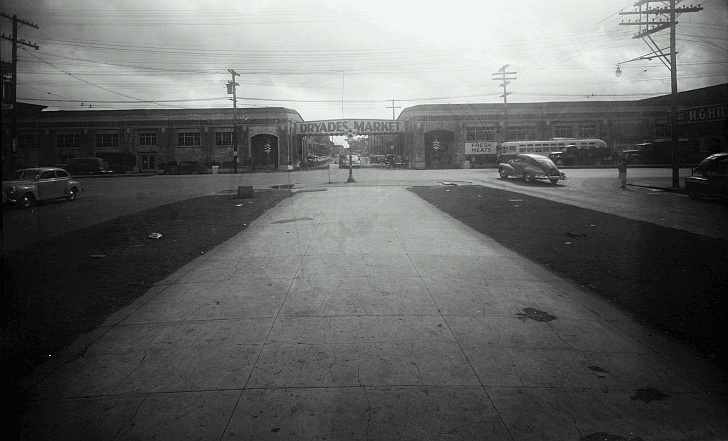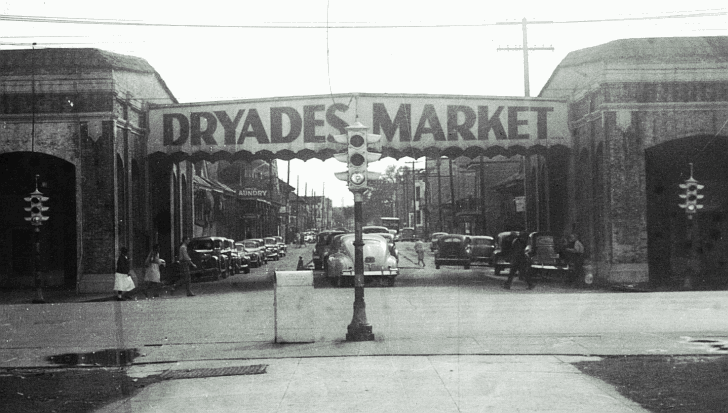 Photos and descriptions (1943) from the New Orleans Public Library: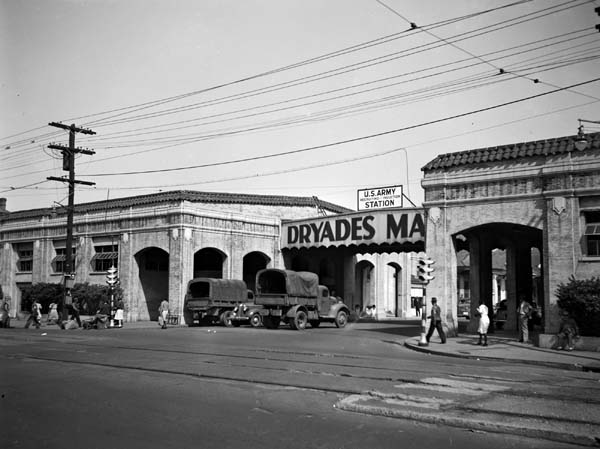 WAAC Induction Center--New Orleans - 1943. Photograph shows the Dryades Market at Dryades and Melpomene Streets.