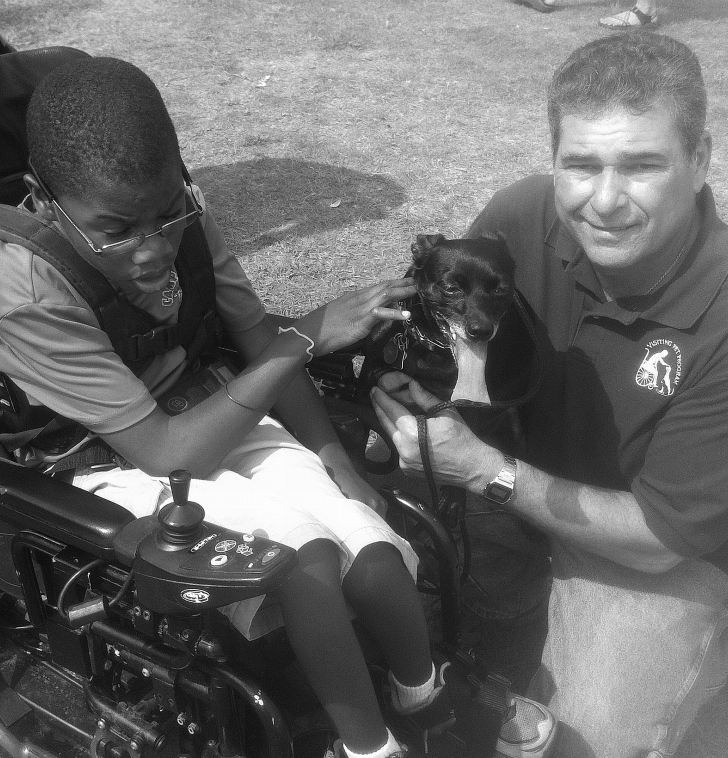 Visiting Pets
Olive's long tongue was made for happily licking those she encounters. She's pictured here with Nathan Burise at LSU Medical School's Camp Tiger summer program. Her owner, Mike Azzarello, is one of over 100 volunteer handlers who dedicate their time to bringing their pets to visit more than 20 area nursing homes, hospitals, rehabilitation facilities and special facilities for children as members of the Visiting Pet Program. Created in 1987, this non-profit organization is the only animal assistance/therapy program in the greater New Orleans area. Animal therapists include mixed and pure-bred dogs, cats, guinea pigs, and rabbits Facilities visited in Metairie include St. Anthony's Nursing Home, Colonial Oaks Living Center, and East Jefferson General Hospital.
Visiting Pet Program dogs also visit the East Jefferson Regional Library as buddys to children who may be at risk of academic failure. The Reading for Rover component of the program helps children practice their oral reading skills in the company of gentle therapy pets in a relaxed, non-judgmental, and comfortable atmosphere. Because docile dogs are so much less intimidating to most kids than are adults, the program has been very successful.
Roxanne Varnelle, an LSU Medical School student, not only snapped this photograph but accompanied Nathan throughout the free-of-cost week-long program designed for special-needs children. LSU's medical students raise over $100,000 each year to fund the camp which includes visits to local attractions throughout the New Orleans area, including the Audubon Zoo, Aquarium of the Americas, Children's Museum, the Global Wildlife Center, UNO's Saints experience, Adventure Quest Laser Tag, City Park's Storyland, and the outdoor carnival and banquet at Jesuit High where this photograph was taken. Then they dedicate a week of their busy lives to assist the children during every moment of the program.
Our community is blessed with these and so many others, pets and humans alike, who spend their time "Bringing Love and Leaving Smiles" (the motto of the Visiting Pet Program). They enhance the quality of other lives, and their own, by volunteering in countless ways in service to the community. (Courtesy of Roxanne Varnelle)

Other books by Catherine Campanella:
A portion of the proceeds from the sale of this book is dedicated to the Lake Pontchartrain Basin Foundation's efforts to rebuild and maintain the historic
New Canal Lighthouse
.
---
---
---