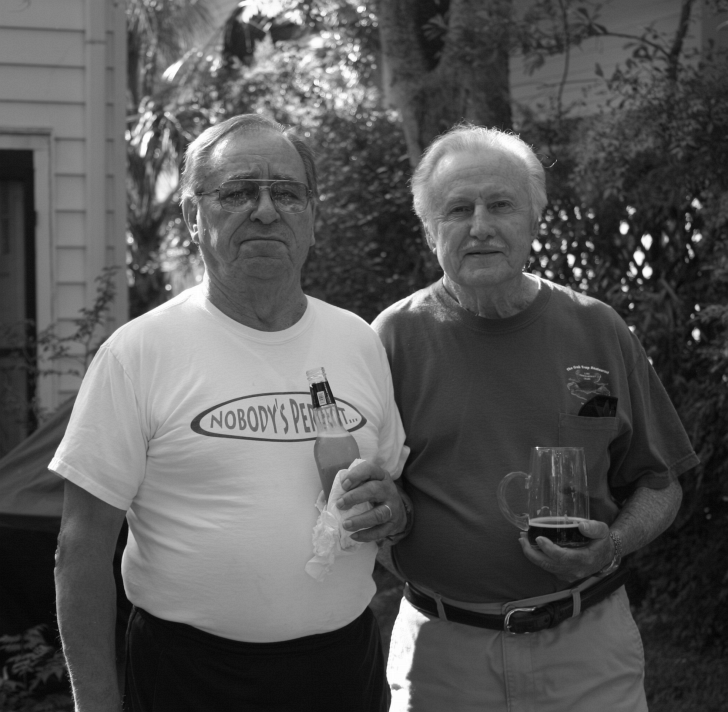 Silk and Satin
More than a half-century ago two men formed what would become a three generational bond that remains strong today. Eddie Krass (left) and Vince Campanella epitomize the generation who, with their wives, moved their young families to Metairie when it was a bedroom community of New Orleans during the 1950s. "White Flight" had nothing to do with it. The suburbs offered affordable new homes on large lots with nearby schools and a built-in sense of community – just about everyone who moved to Metairie then found friends or schoolmates from their old city neighborhoods living there a few doors or a few blocks away.
True to form, their wives, Shirley Oubre and Meredith Knower had known each other at "Third and Prytania" (the local lexicon for Redemptorist Girls High School located at that uptown intersection).
Vince was from downtown, Eddie grew up in St. Roch. Shirley had lived in the St. Thomas housing project. Meredith spent much of her childhood in Carrollton. But like so many other Metairie residents their disconnected connections and common interests led to life-long friendships.
They bowled in leagues at Paradise and Kenner Lanes. They joined the civic association (but were never bestowed Garden of the Month awards). They bought low-cost stock in the very modest Westgate Country Club so that their children could swim with neighborhood friends. They were active in support of their parish church and school most notably for the annual fairs where they worked tirelessly for many years along with other families – the Assenheimers, Ballases, Barbaras. Bensels, Brunes, Colemans, Connels, Dalimores, Davises, Delaunes, Eastmans, Hochhalters, Kennedys. Kropers, Lorias, Maras, Maronges, Mashons, McCarthys, McCoys, Meyns, Poches, Sauves, Stevens, Theriots, and Wiltzes
The Krass and Campanella family celebrated births and mourned the losses of loved ones together. Along the way Vince and Eddie picked up the nicknames "Silk and Satin". Neighborhood friend Gary McCarthy first started calling Vince "Kid Silk" in the 1970s and it was inevitable that Eddie would be known as "Satin". Smooth operators they may no longer be but they are beloved. Unsettled by Hurricane Katrina but settled into retirement they have grandchildren and great-grandchildren nearby. And if you asked them now if they had a chance– way back when – to change their decision to move to Metairie you know what their answers would be. (Courtesy of Julie Krass Kroper.)