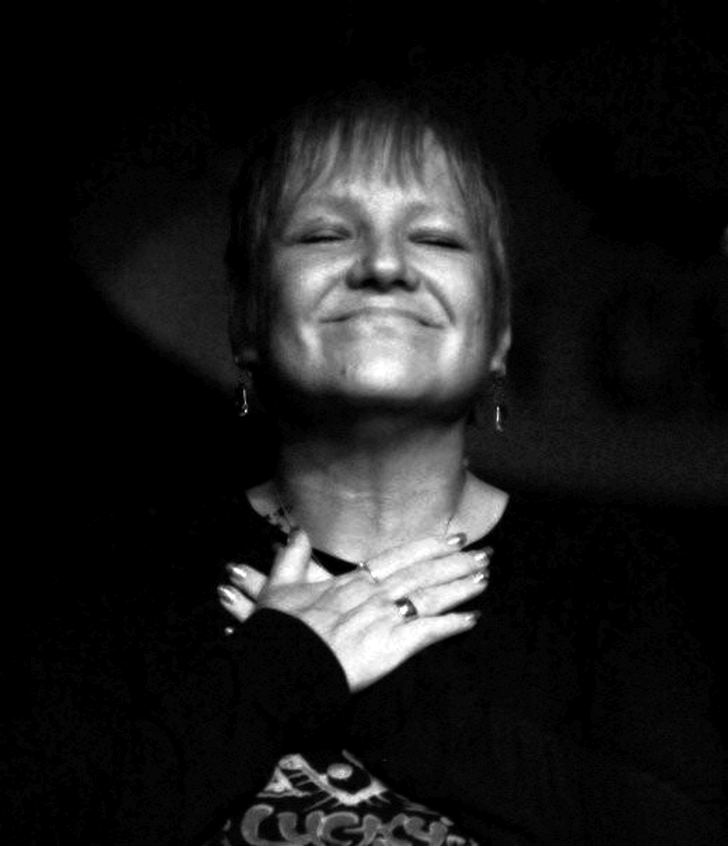 "She's proof that you can come from Old Metairie and have soul", said Bunny Matthews. New York Times critic John Rockwell wrote she is "a short dynamic Southern woman with a tough, earthy, bluesish voice that can rise ecstatically to gospel abandon". While in her teens Quint Davis, New Orleans Jazz Festival producer, suggested that she collaborate with keyboardist John Magnie. Together they formed "Li'l Queenie and the Percolators", one of the most popular local bands during the late 1970s and early 1980s. "Percolators" was taken from Milton Mezzrow's jazz memoir Really the Blues – his 1923 band was named "Mezz Mezzrow and His Percolatin' Fools"). "Little Queenie" was a nickname originally bestowed by a former boyfriend and shortened to "Li'l"by local music journalists, but when "Li'l" caused confusion in non-English speaking countries, "Little" was quickly re-adapted.
She is shown here in New Orleans performing at Chickie Wah Wah.
The daughter of clarinetist and musical arranger Allan J. Harris Jr.(who played in Jay Zainey's orchestra) and a product of Ridgewood Prep and St. Martin's Episcopal schools Leigh has appeared with B.B. King, Elvis Costello, Harry Connick Jr., Pete Seeger, Taj Mahal, and Buckwheat Zydeco, to name just a few. She has performed locally with many familiar artists including The Dixie Cups, the Pfister Sisters, Charmaine Neville, and Amasa Miller. A concert with the New Orleans Philharmonic Orchestra included her performance with her all-female choir "Little Queenie's Wahini Dakinis" and her string band "Mixed Knots". She was chosen Female Performer of the Year by Gambit magazine's readers. Her most popular recording to date is her musical interpretation of Ron Cuccia's poem "My Darlin' New Orleans". She has performed throughout the United States, including New York's Central Park and Town Hall, as well as in Europe, the Caribbean, and Japan. Recently Leigh has also composed and recorded music for films and television, including HBO's Treme.

Having lost much (including recordings planned for release) to the federal flood-wall failures, Leigh now lives in North Carolina where she continues to compose, produce, record, and perform. Her singular music with artists there and nationwide, including of course, her darlin' New Orleans. (Courtesy of Eliot Kamenitz.)