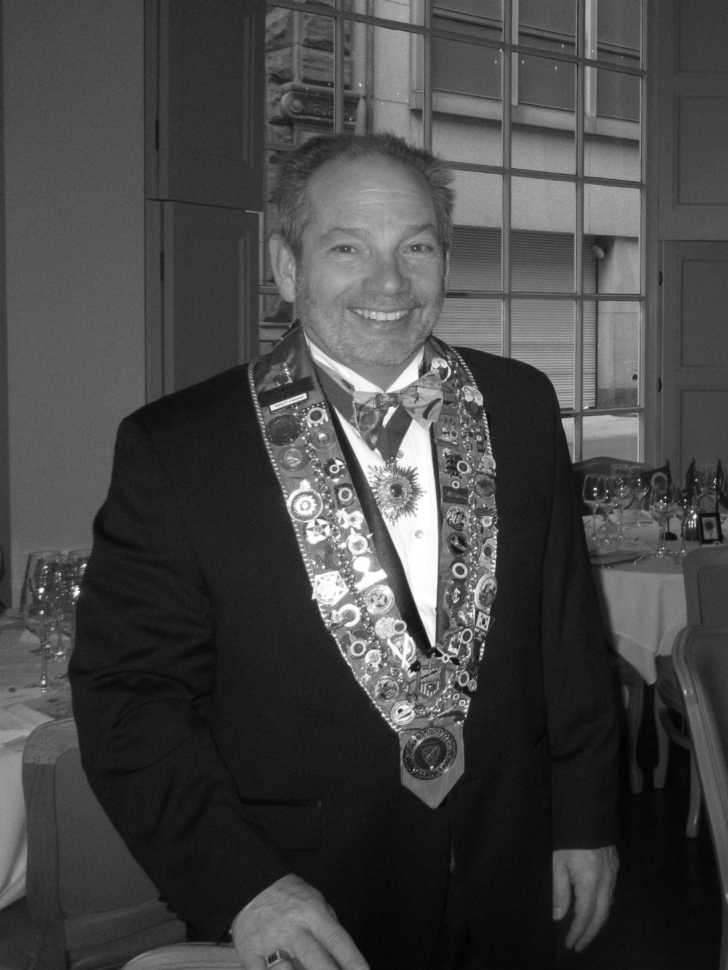 In May of 1966 the Times-Picayune reported that "a diminutive senior from Archbishop Rummel led all the way, and captured the mile run" in the 5-AAA district championship track and field event. Rufus Cressend won the race at 4:48:5 and not only earned the trophy but also left his alma mater with a lasting legacy.
Before the race Mrs. John Baptiste Cressend, mother of the senior team member, letterman, and captain, suggested her son's name as a more appropriate one for the school mascot which John Chase had created – then simply called "The Raider". Principal Brother John Fairfax told Mrs. Cressend that if her son won his upcoming mile race it would be done. And so it was.
In honor of earning the first District Championship title in the school's history, the following day (Monday, May 10th, 1966) was proclaimed "Rufus Cressend Day" and the announcement was made that The Raider would forevermore be named Rufus.
Born and raised in Metairie, Rufus Cressend attended St. Francis Xavier elementary school before attending Rummel where he also lettered in football while playing quarterback. He went on to graduate from the University of Southwestern Louisiana (now University of Louisiana in Lafayette) in 1970 (where he was on the dean's list) with a major in accounting. He attended Officer Candidate School in Quantico, Virginia where he was commissioned an officer in the U.S. Marine Corp during the war in Vietnam. In 1976 he established his Metairie-based business, Rufus P. Cressend, CPA.
Rufus Prados Cressend carries his name proudly. Since the 1800s each generation of the Cressend or Prados family has named a son Rufus. And for generations to come no Rummel student will ever forget the name Rufus Raider.
Still active in his career Rufus is a commissioned Special Agent of the Jefferson Parish Sheriffs Office, an avid tennis player (having reached level 5.0), a world traveler, and a wine collector who is a member and leading officer of several local and international wine and dining organizations – he proudly serves as Bailli Provincial of the Southwest of the Chaine des Rotisseurs. Chaine des Rotisseurs is the world's oldest international gastronomic society, founded in Paris in 1248. While focusing on fine dining and hospitality it also provides scholarships to students of the hospitality industry. As Bailli Provincial of the southwest region, Rufus leads membership chapters in Arkansas, Colorado, Kansas, Louisiana, Oklahoma, and Texas. Yvette D. Cressend, his wife, is the New Orleans Bailli.
During Hurricane Isaac the interior of the Cressends Metairie home was soaked though all three floors after winds badly damaged their roof. Yvette and Rufus spent the duration of the extremely slow-moving storm on 24-hour shift duty trying to save as many of their cherished possessions as they possibly could. (Courtesy of Rufus and Yvette Cressend.)

Other books by Catherine Campanella:
A portion of the proceeds from the sale of this book is dedicated to the Lake Pontchartrain Basin Foundation's efforts to rebuild and maintain the historic
New Canal Lighthouse
.
---
---
---