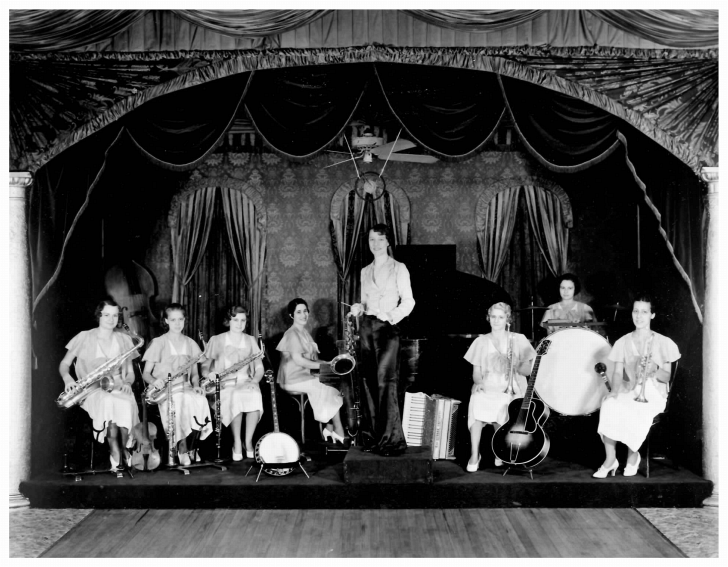 Likely the earliest "all-girl band" in the greater New Orleans area, the Original Shades of Blue orchestra was formed in 1929 by seven local women, all in their early 20's...and Ernie the drummer who wore a dress matching theirs and a wig. They played big-band music which was just becoming popular at the time, performing at the Roosevelt Hotel Blue Room and the Parisian Room on Royal Street as well as Jefferson Parish venues such as the Beverly, the Avalon, and the Cotton Club. The orchestra also performed on WWL radio's Dawnbusters show and on WDSU radio until the mid 1930s when they moved to Chicago in an attempt to broaden their audience. Pictured here are left to right Lorraine Ziblich, Maeceil Petersen, and Myrtle Bentin, saxophones; Thelma MacDonald, piano; Julie Huth, director; Jeanie Spato, trumpet, Ernie (last name not known), drums; and Norma Latino (a long time Metairie resident who is also pictured on the cover), trumpet. (Courtesy of Henry and Anne Harmison.)

Other books by Catherine Campanella:
A portion of the proceeds from the sale of this book is dedicated to the Lake Pontchartrain Basin Foundation's efforts to rebuild and maintain the historic
New Canal Lighthouse
.
---
---
---